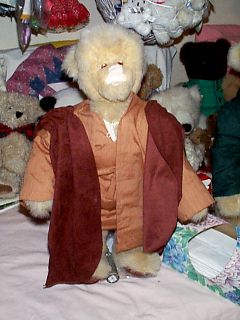 Coming Across
In the first few weeks of life as a vampire, Nicolas de Brabant must learn to relinquish his guilt and to develop his hunting skills, his Killer Instinct, if he is to survive and thrive in his new life, in his Forever Knight. This Nicolas de Bearbant Ger Bear is dressed in the flashback costume from the Forever Knight episode "Killer Instinct", and carries his very own bottle of "special reserve" for those nights when a live "neck" isn't handy.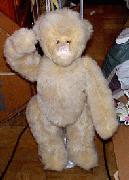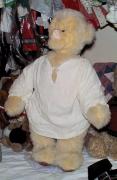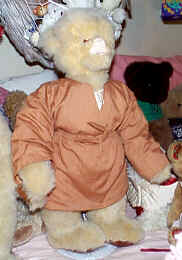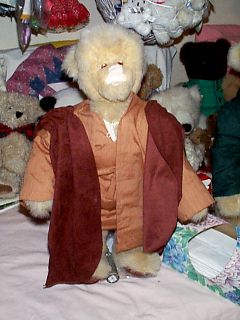 Ger signed Nicolas de Bearbant's hind paw at the third Weekend with Ger. The bear resides with the artist.
---
The Ger Bears on these pages were designed and sewn, and their costumes designed and sewn, by Brenda F. Bell. Costumes imitate Mr. Wyn Davies' costumes in the roles specified. All characters and the shows in which they appear belong to their respective intellectual property owners. No copyright or trademark infringement is intended.
Ger Bears ©1997, Brenda Faith Bell.
---
This page last updated 15 June 2003.