Knight Moves
Atoning for centuries of killing is a monumental task — especially if you are lethally "allergic" to sunlight. In Forever Knight, the vampire Nicolas de Brabant is Nick Knight, a Toronto homicide detective who works the night shift as he desperately seeks to become human again. The Nicholas B. Knight Ger Bear sports Nick's usual dark slacks, button-down shirt, and "tapestry" waistcoat, and comes with his very own bottle of "special stock".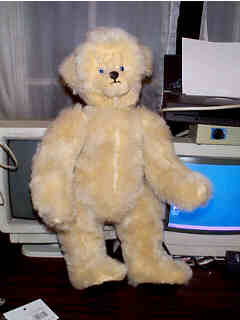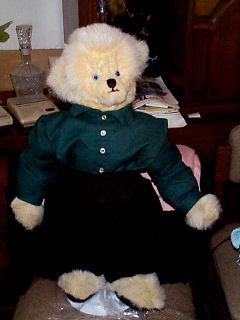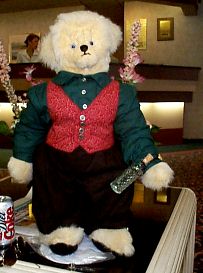 The Nicholas B. Knight Ger Bear was donated to the Geraint Wyn Davies Fan Club to raise money for the club charities.
---
The Ger Bears on these pages were designed and sewn, and their costumes designed and sewn, by Brenda F. Bell. Costumes imitate Mr. Wyn Davies' costumes in the roles specified. All characters and the shows in which they appear belong to their respective intellectual property owners. No copyright or trademark infringement is intended.
Ger Bears ©1997, Brenda Faith Bell.
---
This page last updated 15 June 2003.