Games Vampbears Play
Are sometimes more real than even they can imagine… When he dons headset and data gloves, the reluctant vampire Nick Knight finds himself a virtual vampire in a virtual world, forced to hunt and drain his victims in the course of solving the real-life murder of one of the game's designers. The Beartual Reality Ger Bear is dressed in the black slacks and "evil pink" shirt of this virtual world, and the data goggles from his real-life headset. A bottle of "special stock" lies in reserve for the Hunger which follows a hard day's play.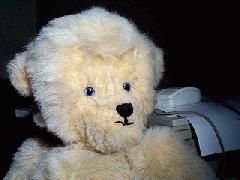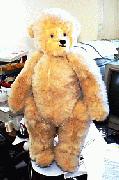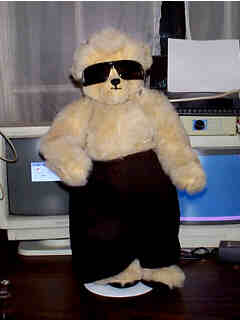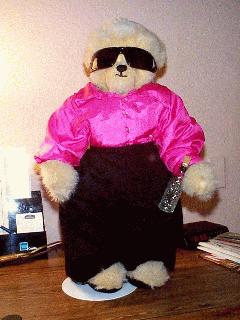 Inspired by the Forever Knight episode, "Games Vampires Play", the Beartual Reality was donated to the Geraint Wyn Davies Fan Club to raise money for the club charities. It was later auctioned off through one of the club's Internet auctions.
---
The Ger Bears on these pages were designed and sewn, and their costumes designed and sewn, by Brenda F. Bell. Costumes imitate Mr. Wyn Davies' costumes in the roles specified. All characters and the shows in which they appear belong to their respective intellectual property owners. No copyright or trademark infringement is intended.
Ger Bears ©1997, Brenda Faith Bell.
---
This page last updated 15 June 2003.