The Ger Bear was first designed by examining patterns for other jointed bears and deciding upon which techniques would best shape the head, limbs, and body in the desired fashion. A muslin prototype was produced. It was adjusted and reworked until the basic head and body shapes approximated Ger's head, and his body as seen in the "see-through knightie" scenes of the Forever Knight episode, "Near Death". Next, a plush prototype was constructed.
The Prototype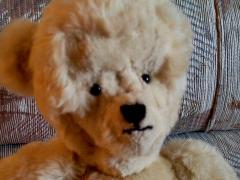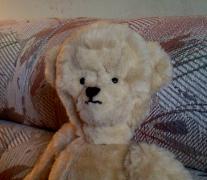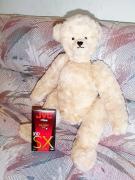 Created from found materials in the artist's "stash". The fur prototype checked out the basic design (body and limbs turned out too wide and were reworked), setting joints and eyes, and shaving the muzzle fur. As the head developed, the need for soft-sculpture became apparent, and was included. The prototype's head looked close enough to the shape of Ger's head in his fan club publicity stills to consider the project worth continuing.
Fabric Swatches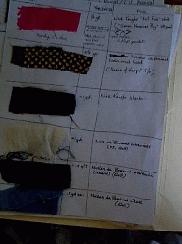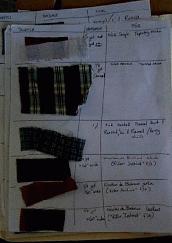 One of the challenges in recreating costumes on a smaller scale is that of scaling down fabrics to lighter weights which, in smaller yardages, mimic the hand and fall of the original full-scale garments. As specific clothing ideas and specific garments took hold, fabrics were purchased, and swatches taken, for each garment planned for each bear.
Clothing Sketches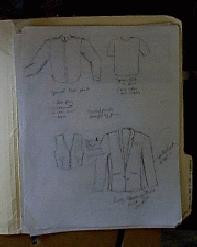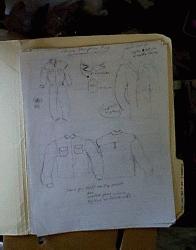 Anatomy of a Teddy Bear: Joints and Eyes
(images forthcoming)
The teddy bears were constructed from pale gold frosted knit-back synthetic "fur" in the color "Champagne Frost". They have hand-blown German glass eyes and are fully jointed. Cotter pin joints were used for the head, both cotter pin and locknut joints were used for the arms and legs. Fur, eyes, and joints were purchased from Spare Bear Parts. Bears were stuffed with new polyester fiberfill stuffing purchased from the Rag Shop, a Mid-Atlantic chain of craft and sewing stores. Open mouths and some paw pads were constructed from felt fabric; other paw pads were constructed from synthetic suede. Fangs were constructed from artificial fingernails.
The completed bears are between 22" and 23" tall and come with white metal bear stands. The Forever Knight bears also come with their own bottles to fill with "private stock". Each has a hangtag explaining the Ger Bear Project.
---
The Ger Bears on these pages were designed and sewn, and their costumes designed and sewn, by Brenda F. Bell. Costumes imitate Mr. Wyn Davies' costumes in the roles specified. All characters and the shows in which they appear belong to their respective intellectual property owners. No copyright or trademark infringement is intended.
Ger Bears ©1997, Brenda Faith Bell.
---
This page last updated 15 June 2003.