Black Harbear
"Go big or go home," the out-of-work director Nick Haskell says to his family as he convinces them to risk their assets to build luxury "lobster yachts" at the family's Black Harbour-based boatyard. The Nick Bearskill Ger Bear is ready to build the latest order — or any order, for that matter — in plaid workshirt and blue jeans. The sunglasses are for driving his blue Mustang convertible down the sleepy streets of this Atlantic Coast town.
Nick Bearskill Ger Bear was presented to Geraint Wyn Davies at the conclusion of the third "Weekend With Ger".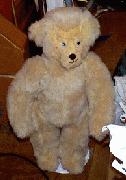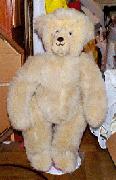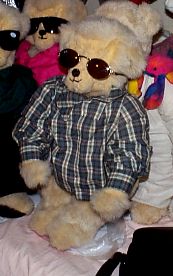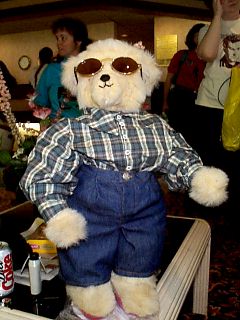 Nick Bearskill wears a plaid workshirt, denim blue jeans, "Ray Ban" sunglasses (like the ones Nick Haskell wore in Episode 2 ("The Rocks and the Sea") of Black Harbour), and a wristwatch.
Ger, Brenda, and Nick Bearskill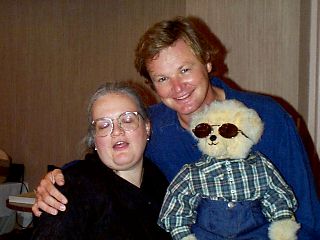 .
---
The Ger Bears on these pages were designed and sewn, and their costumes designed and sewn, by Brenda F. Bell. Costumes imitate Mr. Wyn Davies' costumes in the roles specified. All characters and the shows in which they appear belong to their respective intellectual property owners. No copyright or trademark infringement is intended.
Ger Bears ©1997, Brenda Faith Bell.
---
This page last updated 15 June 2003.